The current Manchester United football club squad will most likely be a completely new side next season as manager Jose Mourinho continues to reshape the team, with many comings and goings, particularly in attack. The latest reports in England claim that injured Swede star Zlatan Ibrahimovic might not remain in the team when the Premier League resumes in August, whilst Wayne Rooney will almost certainly be on his way out too.
The top side won two major trophies in the EFL Cup and the Europa League title but they ended up sixth in the league. Mourinho is working towards changing that, and fast too. Some team members would need to make room for the incoming talents, and it just seems 35-year old Zlatan would be heading out.
The player's contract with the management would end in June but so far no talk of contract negotiations as the striker works on his recovery. The former PSG star has a bleak future as the knee injury he sustained threatens to end his career earlier than expected.
He was the alternative forgone as the Red Devils cruised to a victory against Anderlecht in April in a Europa League clash. After a successful surgery, the giant star has stated his rehabilitation. He is not expected to return until the New Year and who knows if he would pick up form before the season ends – a season Mourinho is expected to challenge for the league title after huge spending?
He has been linked with a move to the Major League Soccer (MLS). Los Angeles Galaxy and a few other sides that can afford him have been named as likely suitors but the player's agent Mino Raiola says the star would likely remain in Europe. Raiola admitted that it might not be United. Whilst some of the bookmakers have a move to the MLS as the favourite option at 2-1, our guidance and advice is to check all markets – and consider France as an potential option.
ROONEY OUT OF OLD TRAFFORD?
This summer one of the biggest things to look out for is if Jose Mourinho would eventually sell off 31-year old liability Wayne Rooney. The Manchester United skipper looks out of place in the set-up but he continues to earn humongous salary despite his poor stats.
Rooney's role at Old Trafford reduced and it has even affected his selection in the Three Lions squad as boss Gareth Southgate prefers younger, in-form options. With the Portuguese tactician keen on adding more faces to the dressing room, Rooney's hopes grow slimmer.
After lifting the Europa League title – defeating Ajax 2-0 in the final in Stockholm – many expected that Rooney would read the handwriting on the wall and leave the club. While he is not obligated to leave as he still has a deal, it is obvious that a prolonged stay would damage Rooney's legacy at the club.
After leaving his boyhood club to join Sir Alex Ferguson as a youngster, Rooney quickly developed to one of the best English players in history. His stats as a young player are overly impressive. He is the club record scorer but it is best he leaves now to protect his legacy. He possibly has dreamt of ending his career at United but it is not working that way. Many believe he would eventually leave this summer but nothing is sure for now.
The player is poised to play in his teammate Michael Carrick's testimonial match on June 4. It would be the best decision of his current career to part with the club that day and look elsewhere for a retirement package. The likes of Frank Lampard and Steven Gerrard move to the MLS in America but there should also be a huge pay check in China.
Mourinho is already shopping for replacements – a top proven striker. Antoine Griezmann might be the eventual man but there are still a lot of hurdles involved in getting him.
MOURINHO FOCUSING ON MBAPPE
One of the other stars United have been linked with (and there have been numerous stars so far this summer; from Antoine Griezmann to Alvaro Morata to James Rodriguez and many other top football talent) is Mbappe. It seems the former Chelsea manager is prioritizing the deal for Monaco teenage sensation Kylian Mbappe.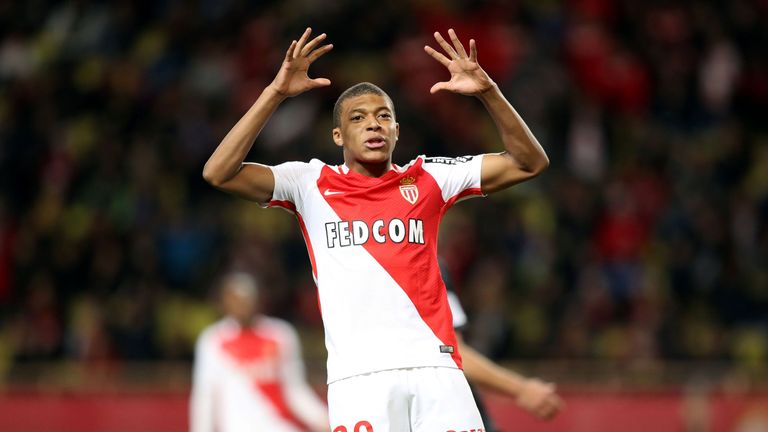 Gianluca Di Marzio claims United wants the French star even ahead of Griezmann's deal. Atletico Madrid are appealing a case against FIFA at the Court of Arbitration for Sports (CAS). The results of that appeal would determine if the Griezmann deal would eventually happen.
Mourinho wants a proven striker and the French star fits the profile after his record at Atleti. Recent links that Alexandre Lacazette and Griezmann would pair up under Coach Diego Simeone might be responsible as Mourinho gives the Griezmann deal lesser priority. There are reports that Simeone might sell Griezmann but get Lacazette. There are talks that Chelsea striker Diego Costa might return to the club even as Simeone is constantly drawn into talks about Torino striker Andrea Belotti.
Mbappe would likely break Paul Pogba's world record transfer deal if the move goes through. Monaco would demand over £100 million for the highly-rated 18-year old. Mourinho should be wary of such a deal with his huge budget already but he seems resilient on landing Mbappe, according to reports.
Monaco would get a replacement for him in the team if United land him. The coach and management are keen on building something long lasting at the club. They reached the last four in the Champions League and won the Ligue 1; many would advise Mbappe to remain at the club and develop but that is a difficult thing particularly with the record amount involved. He would be thrown under serious pressure in England to justify the fees as Pogba and it could be detrimental to his career if he fails compared to other established acts.
MAN UNITED FOCUS ON MORATA?
Another strikerbeing linked to United is Alvaro Morata from Real Madrid. Reports in Spain say manager Jose Mourinho met with the star striker, holding secret talks with the hope of getting assurances that he would come to England.
Zlatan Ibrahimovic's long term injury has put pressure on the Red Devils boss to get a top striker for the role next season. Morata fits this and as he is frustrated by lack of game time by Zinedine Zidane at the Santiago Bernabeu, he could be open to the move.
Chelsea manager Antonio Conte is positively predisposed to the player. They were together at Juventus after Conte signed him before exiting to manage the Italian senior team. AC Milan and Arsenal have been linked with him as well.
Zidane would likely not let the player leave as he favours team rotation. The success he has enjoyed this season would be testament that it is effective. However, if Mourinho convinces the player of his intentions and he puts in a transfer request, forcing the move, United can end up with a new man to lead the attack in August.
Morata wants where he can play regularly so he would have a strong chance of making the Spanish side that would feature in Russia next year. United seem to be the right path if he wants to play in the World Cup but it can also end up as a first-option buy-back deal like his last spell in Juventus. United might also asks for a loan deal but Madrid would likely not consent to that. This summer promises excitement as more and more speculations fly about.
SPANISH YOUNGSTER ROBERTO GONZALEZ
Finally, Manchester United are reportedly keen on landing Spanish youngster Roberto Gonzalez this summer. The Real Betis prodigy is making a lot of waves in the football community. The 16-year old soccer player is believed to be one of the brightest prospects in Spain.
He was called to the Spanish Under-16 last year. He is likely to make his senior debut soon. The Sun claims United would make a move for him this summer, while offering compensation to his parent club. The youngster is believed would join the ranks at the club's academy if the deal is successful. There were reports that Gonzalez visited United's training base at Carrington this year. The deal could eventually happen this summer.
He can feature as a lone striker or in auxiliary capacity. He is gifted in playing using any foot. As coach Jose Mourinho works on the short term plan for the club, he is building a team of talented stars for the future. Gonzalez could be one of such if the deal happens.
Mourinho is one of the most buzzed names in the transfer market. He has been linked with all sorts of players as United are surely set to spend heavily on reinforcements and reshuffling this summer. Anthony Martial could go out on loan after an underwhelming season. His deal costs the club so much but he has not been able to repay the expectations.
If Mourinho get any of Antoine Griezmann, Kylian Mbappe and Alvaro Morata, it would be a negative tick on Martial's continued stay at the club. Mourinho is under pressure to defend his budget and reputations this summer after being disgraced from Chelsea in his second spell and finishing sixth in the league this term.